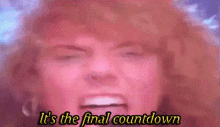 I couldn't help it, Every time I think of how close the release is, I start to sing that song to myself… alright sometimes I hardcore perform it… #sorrynotsorry

With only 4 days to go until Reign of Ash goes live I had to celebrate with a freebie! That's right folks! Mother of Shadows is currently free until midnight on 1/16/18 on all Amazon platforms.
Grab it now and get caught up in time for Reign's release!
Amazon US
Amazon AU
Amazon CA
Amazon UK
Speaking of countdowns, don't forget to enter the rafflecopter for my big 'ol giveaway here.
There's still time to enter, with daily entries, all the way through 1/21/18. Don't  miss out on your chance to win this prize worth over $100!